The second most prestigious snooker tournament of the year and one of just three Triple Crown tournaments is the UK Championship 2022. It is once again being played in the old Viking capital of York, which is in itself an amazing city to visit. It is an ancient and very festive city, and the tournament brings forward the best in the players. As the 2022 tournament will take place a few weeks earlier than usual, it may be more affordable to watch due to not overlapping with the York Christmas events.
Where?
The UK Championship 2022 is being played in the Barbican just outside the old city walls of York, 10-15 minutes walk from the famous Parliament Square and 20 minutes from the York Cathedral, one of the largest in Europe. The city is also known for its chocolate specialities, ghost tours and a host of other events for the entire family. For those same reasons, it is a good idea to book your hotel well in advance.
[googlemaps https://www.google.com/maps/embed?pb=!1m18!1m12!1m3!1d9390.80002719754!2d-1.0780316517289168!3d53.95483606972365!2m3!1f0!2f0!3f0!3m2!1i1024!2i768!4f13.1!3m3!1m2!1s0x487931b20a5d2de7%3A0x452e03942bdaf811!2sYork%20Barbican!5e0!3m2!1sda!2sdk!4v1580595460896!5m2!1sda!2sdk&w=600&h=450]
When will the UK Championship 2022 be played?
The UK Championship 2020 will be played from November 8 to November 20, 2022. This is a few weeks earlier than usual, probably due to the FIFA World Cup kicking off on November 21. 128 players are expected to take part in the tournament, playing on 8 simultaneous tables in the first and second rounds (four in the arena and four in a hall nearby), four tables in the third round (all in the arena), two tables in the fourth round and the quarterfinals, and just a single table set-up for the semi-finals and the grand final itself. All rounds up to and including the semi-finals are played as best of 11 frames, and the final is best of 19 frames.
How do I get tickets for the UK Championship 2022?
You can get tickets for the UK Championship 2022 online from SeeTickets. It is recommended that you get your tickets as soon as possible if you want to attend the final or the semifinals.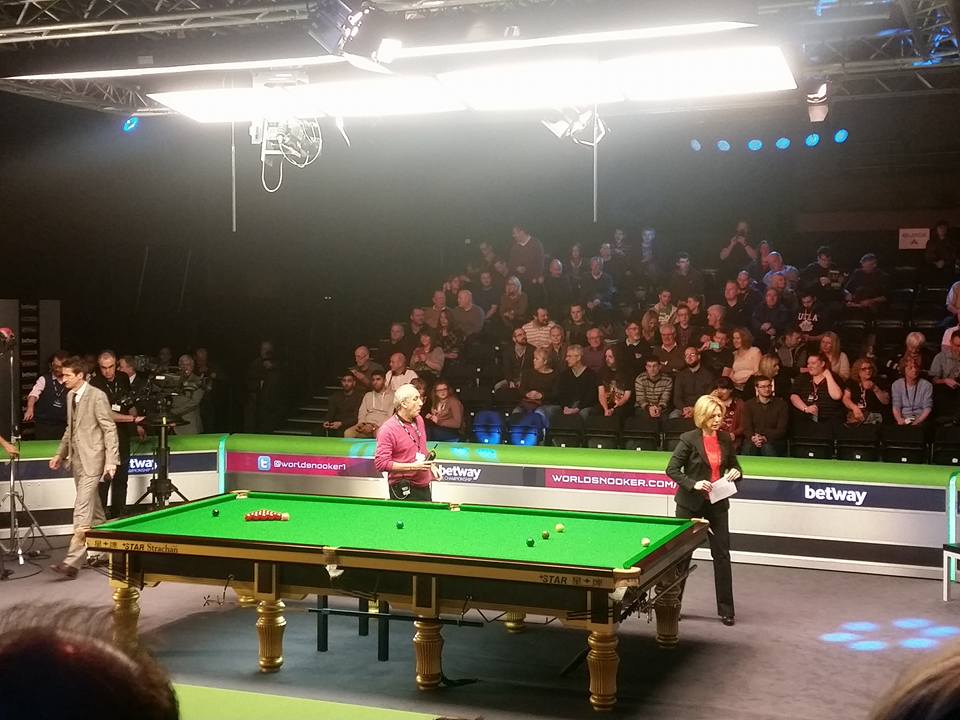 The price for an all-day ticket for the 1st, non-televised round (128 players) is £12-14. All-day tickets for the 2nd to 4th rounds are £30-33, Quarterfinals are £30-35 per session or £50 for a day, Semifinals are £70 for the entire day, and an all-day ticket for the final is £80. VIP or Premium tickets for the UK Championship are generally not available.
Where to stay near the UK Champions 2022 venue?
York usually has a lot of visitors in December, and there are many hotels to choose from in and near the city centre. It is, however, not inexpensive. Closest to the Barbican is the 4 star Novotel York, which is also used by a lot of the players, officials and pundits. The webmaster of Snookertrips.com has stayed there thrice and met such snooker stars as Mark Selby, Stuart Bingham, Martin Gould, Stephen Hendry, John Parrott, Ken Doherty and others (even the MC, Rob Walker, at the breakfast buffet). For those reasons it is advised to book well in advance, as there is a high probability it will be sold out several weeks before the tournament. Equally close and just next to the city wall is the 3 star Holiday Inn. Other York hotels are available here.
How do I get to York?
There are good flight connections to most of Europe as well as overseas to/from Manchester Airport. From there it is a 1½-2 hours train journey with the TransPennine Express directly to York. Tickets from the airport can be had from around £10 for a single if you book your ticket in advance. If you do not, you may have to pay up to around £30. Train tickets can be purchased in advance from www.tpexpress.co.uk. There is also an express connection with Grand Central Rail from London Kings Cross taking just under 2 hours from around £19 if bought some weeks in advance.
Much closer to York is the Leeds-Bradford airport, which has regular flights to/from London Heathrow, Dublin, Amsterdam and Riga among others. However, be aware, that there are no direct public transport links from Leeds-Bradford to York, so you will need to first take a bus to Leeds and then continue on to York by train.