The 2023 World Snooker Championship will once again be played in Sheffield, the Snooker capital of the world. This is the 46th consecutive time that the championship will take place in the legendary Crucible Theatre. The 16 top players in the world will play against 16 qualifiers, who have to go through an arduous qualification tournament. Everything leads up to the climax, the final, which will be played over two days and which may require an incredible 35 frames to be decided.
This article is about a previous tournament. Click here to read about the next World Snooker Championship.
Where?
The Snooker World Championship will once again be played in the Crucible Theatre in Sheffield, just a few hundred yards from the train station and close to all the major hotels and sights. The Crucible has hosted the World Snooker Championship ever since 1977, and at the beginning of the 2017 championships, World Snooker boss Barry Hearn announced, that he had made an agreement with the City of Sheffield that the World Snooker Championship will be played there until at least 2027.
Why not book your hotel for the Snooker World Championship 2023 now, before they all sell out? Most can be booked and cancelled free of charge. Click here to see available Sheffield hotels.
When?
The World Snooker Championship 2023 is scheduled to be played from April 15 until May 1, 2023.
Once the tournament commences, play will take place on two tables simultaneously up to and including the quarterfinals. 1st round is best of 19 frames, second round and the quarterfinals are best of 25, the semifinals are best of 33 and the final is best of 35 frames.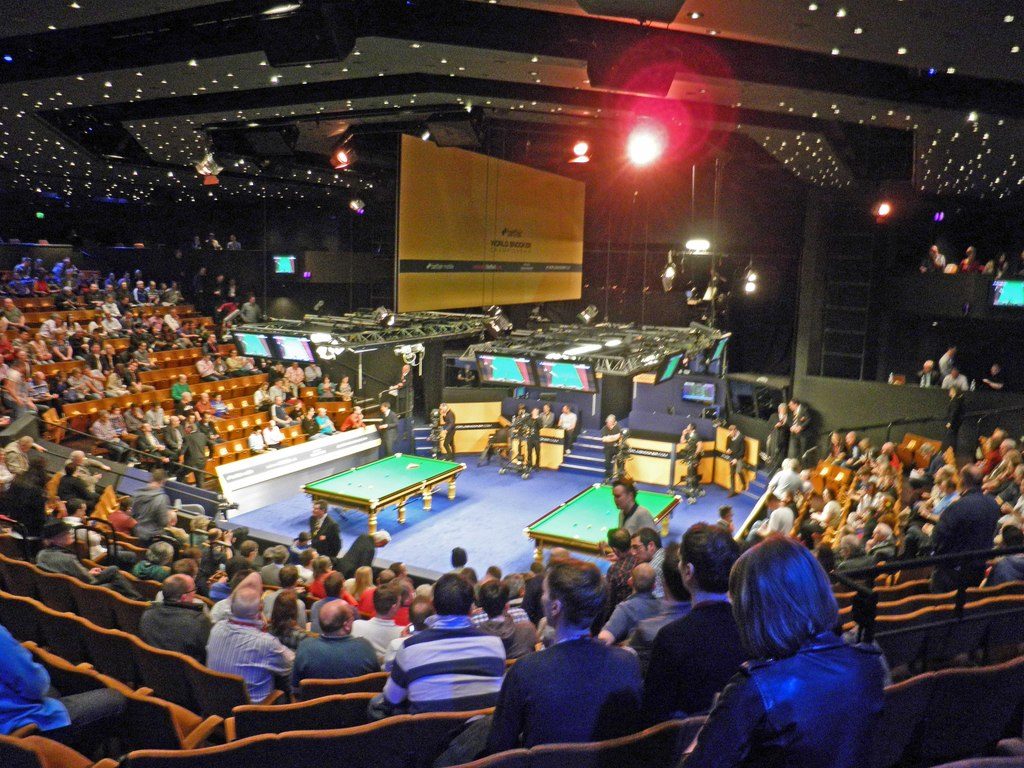 Tickets for the World Snooker Championship 2023 – and where to get them?
Tickets will go on sale on Crucible Theatre or from World Snooker's official ticketing partner SeeTickets on Monday, May 2, 2022 at 9AM (GMT). Tickets usually go extremely fast, and previous finals have sold out in minutes.
Tickets are £40 for a 1st round session, £45 for a 2nd round session, £60 for a session in the quarter-finals, £80-90 for a semifinal session and £120-130 per session for the final. Premium tickets are available for all sessions at a price of £95 for a 1st round session and up to £170 for the fourth session of the final. Premium tickets include prime view seating, a 2022 Event Programme and a commentary radio.
VIP packages, which includes dinner, drinks and a meeting with a legend, are available from £350 per session, but only for the semifinals and the final.
Where to stay for the World Snooker Championship 2023?
There are a number of good hotels in Sheffield close to the Crucible Theatre. Recommended options are the 4-starred Novotel and Mercure, both of them very close to the Crucible, and both of them used by World Snooker. In 2015, finalist Stuart Bingham praised the Mercure for their hospitality during the tournament. Budget travellers are recommended to try the nearby Ibis Sheffield Centre, which is usually good value for money. Other Sheffield hotels are available here.
Remember to book early, as the World Snooker Championships draws a lot of people to visit Sheffield. For most of the hotels recommended above, it is possible to book them early without paying a deposit and to cancel them for free, if you don't need it after all.
Going to Sheffield for the World Snooker Championship 2023
There are good flight connections to most of Europe as well as overseas to/from Manchester Airport and Birmingham Airport, both of which are about 1½ hrs by train from Sheffield. Tickets from the airports to Sheffield can be had from around £10 for a single if you book your ticket in advance. If you do not, you may have to pay up to around £30. It is also possible to go from London St. Pancras in about 2 hours – those tickets are available from around £15 if bought well in advance. Train tickets can be purchased from www.tpexpress.co.uk.
For some, flying into Doncaster Sheffield Robin Hood Airport might be an option, but this is mostly a possibility for travellers from certain Eastern European countries flying Wizz Air.